Product Update 11/09/2016
A new composer has been released in Front. We've made strides in resolving issues around copying and pasting content and are excited to introduce a couple of new features!
Resizable Images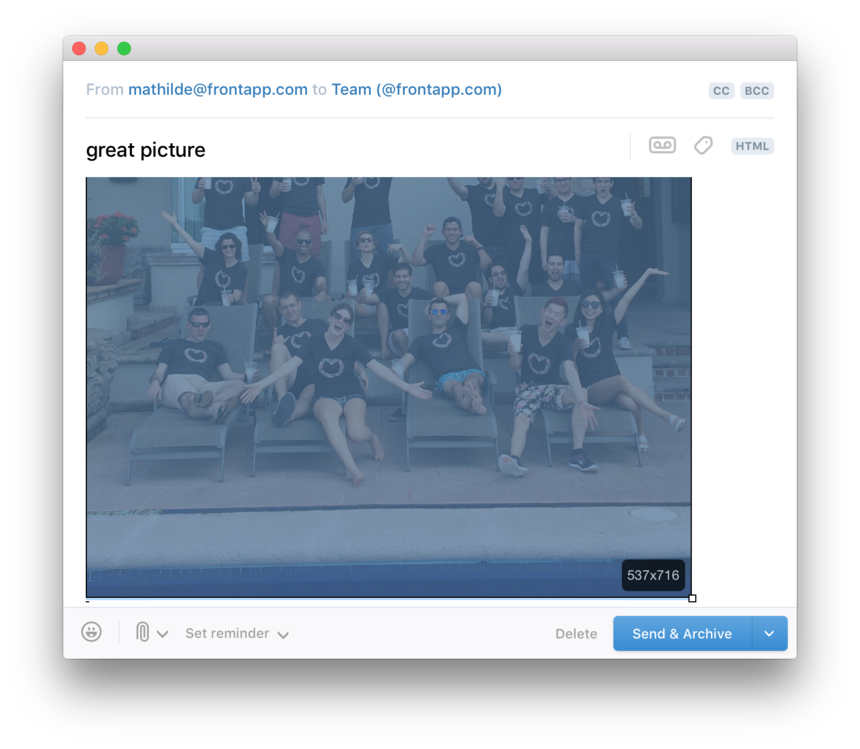 Text Highlight
Text Strikethrough
Table Formatting
You can copy tables from Excel, Google Spreadsheet, and Numbers, and paste it into Front without losing the formatting.
Our public roadmap is up to date. Let us know what features/improvements you'd like to see next!
Hello Cori Morris , regarding the cop/paste of the info, I would like to know, since the current architecture of FrontAPP does not allow it, if there is a possible to way to manually copy/paste the conversation (single messages) and mark them as inbound and/or outbound in the system. Same also for creating a user account.

Cori Morris sorry if it wasn't clear. What I meant is the possibility to create "Conversation" manually, and of course adding manually Inbound and Outbound messages. This request is due to a remote possibility that FrontAPP for a short period is not loading all the messages, and this will prevent to lose some passengers interaction.

Is this functionality available?

Michele Ghielmetti I'm sorry, I'm still confused. You can compose emails manually from Front. Do you have an account with us? Please feel free to email us so we can take a look at your set up.