How to enable and use the Pipedrive integration
Like other integrations, you need to be an admin in order to enable the Pipedrive integration.
The Pipedrive integration allows you to bring information about your leads and contacts into Front, and trigger automated actions with rules.
---
Step 1
Go into your Settings and select Integrations. Click Pipedrive, and Enable integration.
Step 2
Retrieve your Pipedrive API Key and Subdomain by logging in to the Pipedrive website.
Step 3
Select API.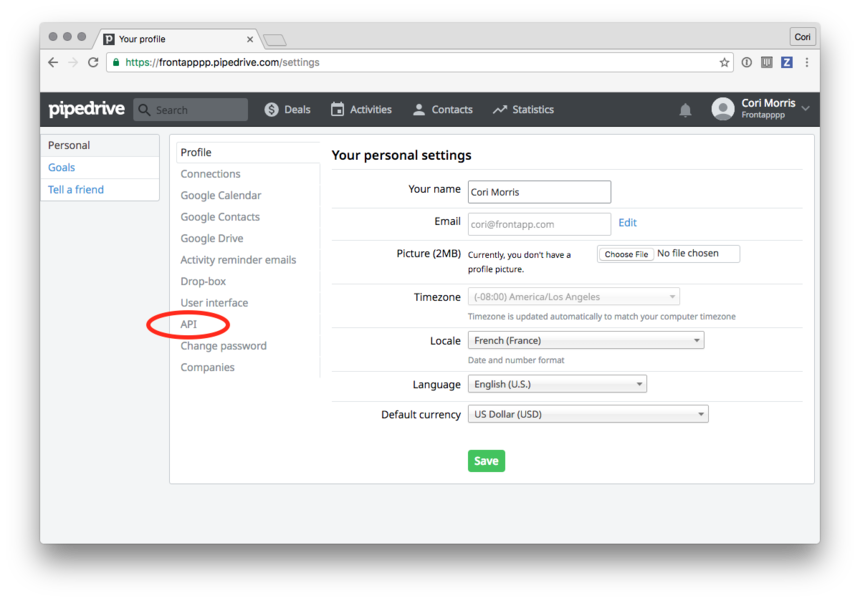 Step 4
Copy and paste the API Key into Front.
Step 5
Now, select Company settings, and Company domain to find your Subdomain. Copy and paste that into Front.
Step 6
Click Save to finish enabling the Pipedrive integration.
Step 7
You can now display information about your contacts directly in Front. Open the right pane by clicking on the arrow located on the top right corner of your Front interface.
You will be able to see the information available in Pipedrive and tied to the current message in Front. The links will take you to the respective pages in the Pipedrive interface. If that contact isn't in Pipedrive yet, you can create the contact.
Step 8
If you link your Pipedrive account, new actions will appear in rules. Go to Settings, select Rules, and Add a team rule.
Step 9
Define conditions and select Create activity in Pipedrive as the action. This will add the content of the message as a new activity associated to the contact, assuming this contact exists.
Hello

We are testing the integration with PIPEDRIVE.

We can see that in fact when we receive an email from a person that is already in PIPEDRIVE that DEALS are showned in the right column of FRONT.

But how can we associate/transfer that particular email to the correspondent DEAL IN pipedrive ?

Also when we answer a particular email, how can we automatic transfer/copy the email to the correspendent deal in Pipedrive ?

Compliments

Miguel Soares

Hi Miguel,

It appears there's a bug with our Pipedrive integration. It's not attaching activities to deals anymore. We will fix this before the weekend. An activity exists, it will be attached to both a deal and a person.

When a rule creates a Pipedrive activity for a inbound email, it links this activity to the user (it has to exist) as well as the first opened deal this person is attached to, if any. I suggest you use the same rule that will go like this: if an outbound message is triggered from a given inbox, then create activity in Pipedrive.

I think we've uncovered a pretty significant flaw with the Pipedrive integration.

Contacts - Whenever anyone on the team creates a Pipedrive contact through Front (using the Pipedrive integration) - That contact is assigned to me in Pipedrive, not the team member that made the contact. Also, once the contact is created, that team member can't see the contact in Pipedrive because the contact's visibility is set to "Owner and followers". So, when they click the name after it has been created, they are sent to a screen notifying them that the item is not visible...

So, as the account owner, I would have to go into these contacts myself, after they have been created and change the visibility and owner of the deal.

Deals - Same goes when adding deals - when a teammate creates a deal, I am added as the owner. However, in this case, the visibility is set to "Entire Company" so the team member has the ability to see the deal, but still needs to go in and modify the ownership.

Also, when creating deals in Pipedrive for a contact, the contact's organization is automatically linked to the deal as well. When creating the deal through Front, this doesn't happen, and we have to go in and manually add it.

--

Sorry if this is already a known issue, but I wanted to bring it to your attention.

Micah Kohne,

Front mirrors the permissions that you have set up for users on your Pipedrive team, but anyone with access to contacts owned by the authenticating user should be able to see them. Be sure to change the dropdown in the upper right corner of your contacts panel to "Everyone" since it defaults to showing you only the contacts you own.

Micah Kohne I think it's best if we move this to email so that we don't share private information here. Can you please share a screenshot of your contacts panel with us? Send it to team@frontapp.com and we'll help you there :-)

I thought i would checkout Front. A major requirement is an integration with Pipedrive.

I'm reading this thread and not getting a good vibe as to whether I should bother evaluating the product. If Front won't work with Pipedrive properly, then I'm not about to invest my time evaluating the product.

Good luck with your hiring and feature requests. In my parlance its the same as saying "sorry, but it's not on our radar at the moment. - we can't or won't help you."

Anyway I can send ajax request with the information of the person's name, contact, email and organization to be included in a new deal when I add the deal? I am now trying to send two requests to add both a deal , and the person's details, and i have to figure out how to link them together, which is very troublesome at the moment.

tony Could you email us and include a bit more information? My initial thought is that it's not possible since we don't give API access to the Pipedrive integration, but I'm not sure I fully understand your question.