How to enable and use the Pipedrive integration
Like other integrations, you need to be an admin in order to enable the Pipedrive integration.
The Pipedrive integration allows you to bring information about your leads and contacts into Front, and trigger automated actions with rules.
---
Step 1
Go into your Settings and select API & Integrations. Scroll down the list, and click on Pipedrive.
Step 2
Turn the toggle on to enable Pipedrive.
Step 3
Retrieve your Pipedrive API Key and Subdomain by logging in to the Pipedrive website.
Step 4
Select API.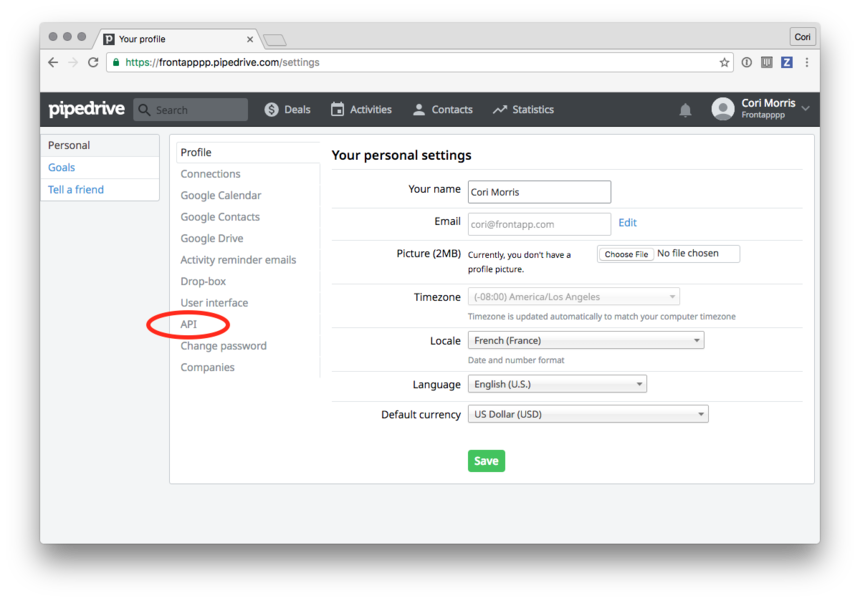 Step 5
Copy and paste the API Key into Front.
Step 6
Now, select Company settings, and Company domain to find your Subdomain. Copy and paste that into Front.
Step 7
Click Save to finish enabling the Pipedrive integration.
Step 8
You can now display information about your contacts directly in Front. Open the right pane by clicking on the arrow located on the top right corner of your Front interface.
You will be able to see the information available in Pipedrive and tied to the current message in Front. The links will take you to the respective pages in the Pipedrive interface. If that contact isn't in Pipedrive yet, you can create the contact.
Step 9
If you link your Pipedrive account, new actions will appear in rules. Go to Settings, select Rules, and Add a team rule.
Step 10
Define conditions and select Create activity in Pipedrive as the action. This will add the content of the message as a new activity associated to the contact, assuming this contact exists.
Hello

We are testing the integration with PIPEDRIVE.

We can see that in fact when we receive an email from a person that is already in PIPEDRIVE that DEALS are showned in the right column of FRONT.

But how can we associate/transfer that particular email to the correspondent DEAL IN pipedrive ?

Also when we answer a particular email, how can we automatic transfer/copy the email to the correspendent deal in Pipedrive ?

Compliments

Miguel Soares

Hi Miguel,

It appears there's a bug with our Pipedrive integration. It's not attaching activities to deals anymore. We will fix this before the weekend. An activity exists, it will be attached to both a deal and a person.

When a rule creates a Pipedrive activity for a inbound email, it links this activity to the user (it has to exist) as well as the first opened deal this person is attached to, if any. I suggest you use the same rule that will go like this: if an outbound message is triggered from a given inbox, then create activity in Pipedrive.