How to enable and use the HubSpot integration
Like other integrations, you need to be an admin in order to enable the HubSpot integration.
The HubSpot integration allows you to display information about your HubSpot contacts, and use rules to log messages into HubSpot.
---
Step 1
Go into your Settings and select Integrations. Click HubSpot, and Enable integration.
Step 2
Click Link your company's HubSpot account.
Step 3
Choose an account to link to Front.
Step 4
Click Save to finish enabling the HubSpot integration.
Step 5
You can now display information about your contacts directly in Front. Open the right pane by clicking on the arrow located on the top right corner of your Front interface.
You will be able to see the information available in HubSpot and tied to the current message in Front. The links will take you to the respective pages in the HubSpot interface. If that lead isn't in HubSpot yet, you can create the lead.
Step 6
Now let's create a rule to automatically log messages into HubSpot. Go into your rules and select Add a team rule.
Step 7
Create the rule any way you want, but make sure the action is Log message in HubSpot.
Step 8
Because my rule states that any comment containing #hubspot be logged in to HubSpot, as soon as I comment on a message, it will be immediately logged in to HubSpot.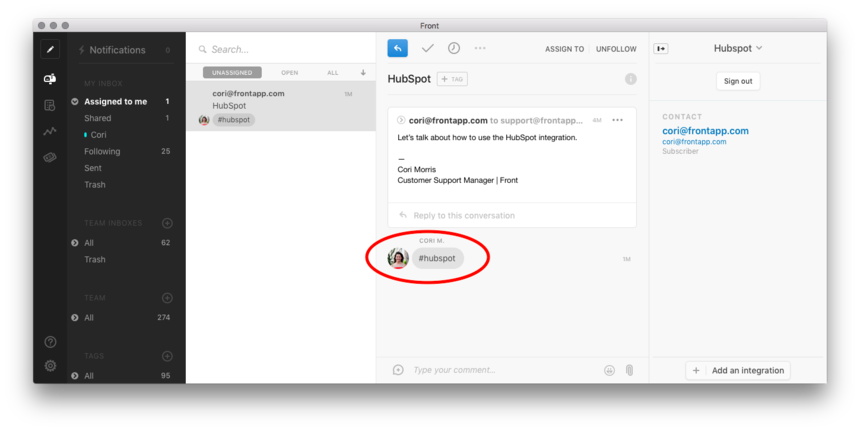 Note: A lead must already be created in HubSpot in order for messages to log in HubSpot.