How to create canned responses
Canned responses are predetermined responses to common questions. Using canned responses is a great way to tackle issues that require a standard or simple response. They allow you to respond faster to incoming emails, and lessen the repetitive nature of replying to frequently asked questions.
Front allows you to create individual and team canned responses. Individual canned responses are visible to only you, and team canned responses can be visible to your teammates on a per inbox level.
There are two ways to create a canned response. The first is in your Settings, and the second is directly from the composer.
---
Option 1 - Settings
Step 1
Choose whether you want to create an individual or a team canned response.
Step 2
For individual canned responses, go into your Settings and select My responses. Individual canned responses are accessible only to you and can be used in any inbox. For team canned responses, select Responses. Team canned responses can be used by any teammate who has access to that team. Then click Add a canned response.
Step 3
Create your canned response. Don't forget to try out our variables!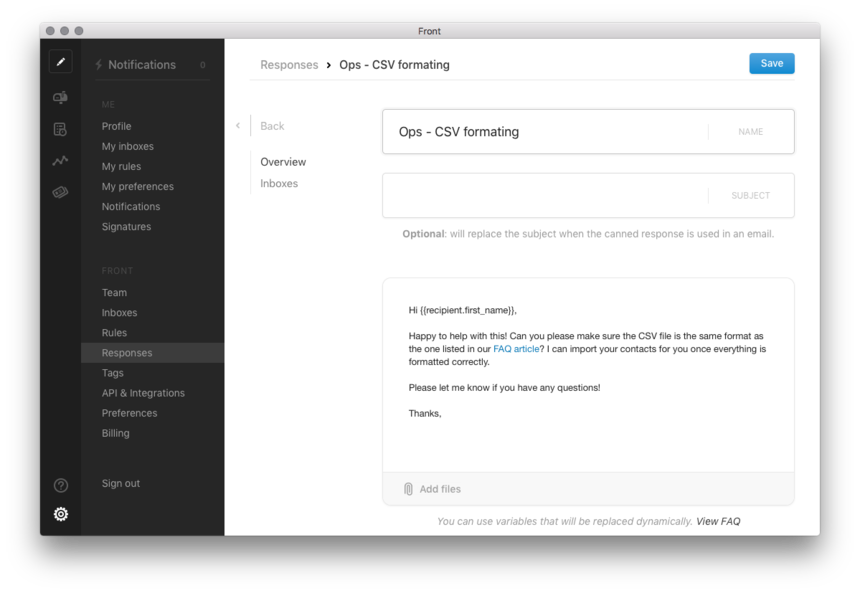 Step 4
Format your canned response by highlighting the text you want to edit.
Note: if you add a subject, the subject of the conversation will change every time you use the canned response. It will override the previous subject.
Step 5
Once the canned response is created, click Inboxes to choose in which inboxes this canned response appears.
Step 6
Now it's time to use a canned response! Whether you're in the full composer or in the quick reply, click on the tape recorder icon to add a canned response.
---
Option 2 - Composer
Step 1
Compose a new message, and draft it.
Step 2
Click on the tape recorder icon and select Save as canned response.
Step 3
Enter the name of your canned response, and choose individual or team canned response. Then click Create.
This canned response will now be available for future use.
Canned responses are fantastic! Thank you! A great addition for us would be a way to include a placeholder within canned responses which had to be replaced before sending became possible. To avoid team members accidentally sending an email containing a placeholder symbol (in cases where variables aren't appropriate / available).

Hi Laura,

Sorry for the delayed reply.

This shouldn't be the case. Could you please provide me with the conversation ID for the message you are experiencing these issues with? Feel free to email it to team@frontapp.com

You will need to click on the "i" next to the subject line, and copy the Conversation ID. Please share it with us so that we can investigate.