How to enable and use the Slack integration
Like other integrations, you need to be an admin in order to enable the Slack integration.
The Slack integration allows you to define rules in Front that automatically post notifications to Slack, and manually send messages to Slack. From Slack, you can use Message Menu buttons to archive or re-open a message, assign it to another Front teammate, or move it to another Front inbox.
---
Step 1
Go into your Settings and select API & Integrations. Scroll down the list, and click on Slack.
Step 2
Turn the toggle on to enable Slack. Click Sign in to Slack and link your account. This will allow Front to post as a bot in your Slack organization.
Step 3
Click Save to finish enabling the Slack integration.
Step 4
You now have two options to send messages to Slack - create a rule to automate it, or do it manually.
Step 5
To create a rule, go into your Settings, select Rules, and Add a team rule.
Step 6
Set up your conditions (more information can be found in the Understanding rules article), and choose the action Send to Slack (listed in the Then section). You will be able to send a notification to a specific Slack channel or to a specific user.
Step 7
To send to Slack manually, click the three dots in the top right corner of a message, and select Send to Slack.
Step 8
The first time a teammate opens the menu, they will be prompted to link their Slack account. Afterwards, they will be able to add a comment and choose a destination channel. When you're done, click Post.
Step 9
Your message will appear in the Slack channel you selected.
Note: You also have the option to use Slack Message Menus to take action on your Front messages from Slack. When this option is turned on, any member of the Slack channel where you've sent the message can assign, move, re-open, or archive the message directly from Slack.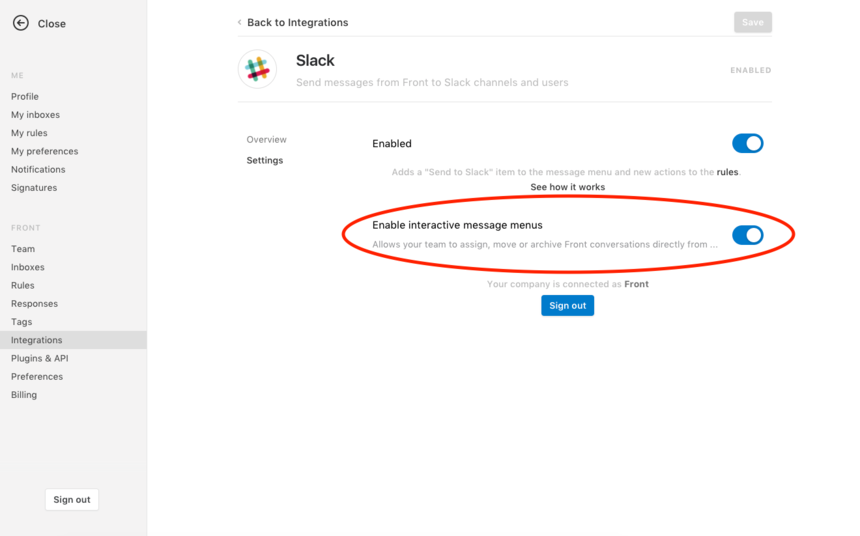 Message Menus are enabled at the company level for Front accounts — so your admin will choose whether this functionality is enabled for every message sent to Slack by anyone on your Front team, or not enabled for anyone.
If enabled, anyone in the channel can use message menus to choose a teammate to assign the message to or move it to another inbox. The Archive button will dynamically change to Re-open if the message has been archived. All your actions will be synced with Front in real time.
You can turn off this functionality at any time in your Slack integration settings.
I set up a rule with a "Send to Slack " action and it doesn't work. I even added another action with it (To assign the email to myself) to see that the rule "catches" the email properly and it does. The email is not sent to Slack though. The Slack integration does work, when I use it manually and not with a Rule.

Adam Rosenthal This might be better to handle through email. Could you please provide me with name of the rule and the conversation ID for the message you are experiencing these issues with? You will need to click on the "i" next to the subject line, and copy the Conversation ID. Please share it with us so that we can investigate.

What would really be great is if the Slack Integration could pass something along, beside just quoting the conversation in Slack. That doesn't tell us what/why the conversation is passing into Slack, and we'd increasingly like to use the Slack integration for specific notifications.

For instance, I have setup a number of Rules that alert us to various customers, time-based (SLA) scenarios, and more. These were originally set to post to our #support-team channel in Slack, but then, we quickly got slammed with them and didn't necessarily know which Rule was triggering the Slack notification.

I'm looking into creating specific Slack channels, just for each Rule, but that's a lot of back-end Slack work. Would be great if FrontApp would just allow us to have a "Short Title" message for each Rule that gets passed into the Slack Notification. For example, "Unassigned Over 2 Hours" as the Slack notification Title.