Understanding rules
---
Front's rules engine allow you to automate your workflows. Rules can help you handle repetitive tasks to save time and increase your team's efficiency in Front.
This article will help you understand how rules work. After reading, go ahead and try to create a rule. For examples of popular rules, visit our Rules Directory.
You can create rules for both individual inboxes and team inboxes. Team rules can be applied to any shared inbox. Individual rules will only apply to your individual inbox. You need to be an admin in order to add a team rule.

Rule have three parts: trigger(s), condition(s), and the resulting action(s).
When specifies the types of events that will cause Front to evaluate if the conditions of your rule are met.
For the condition, you can choose either all or at least one of the following types of criteria (with one or more criteria set, either way).
The conditions available depend on which triggers you have selected. For the contains condition, you can include multiple items that you want the rule to apply to by using a semicolon to separate the list.
A popular option is using time-based conditions. You can use these to create rules to apply a certain amount of time after something happens in Front.
Then specifies what action you are wanting Front to take.
If you don't want rules that come later in the list to apply, you should check the box "Stop processing other rules" when you create your rule. If this option is checked, subsequent rules will be ignored even if they would apply to the conversation.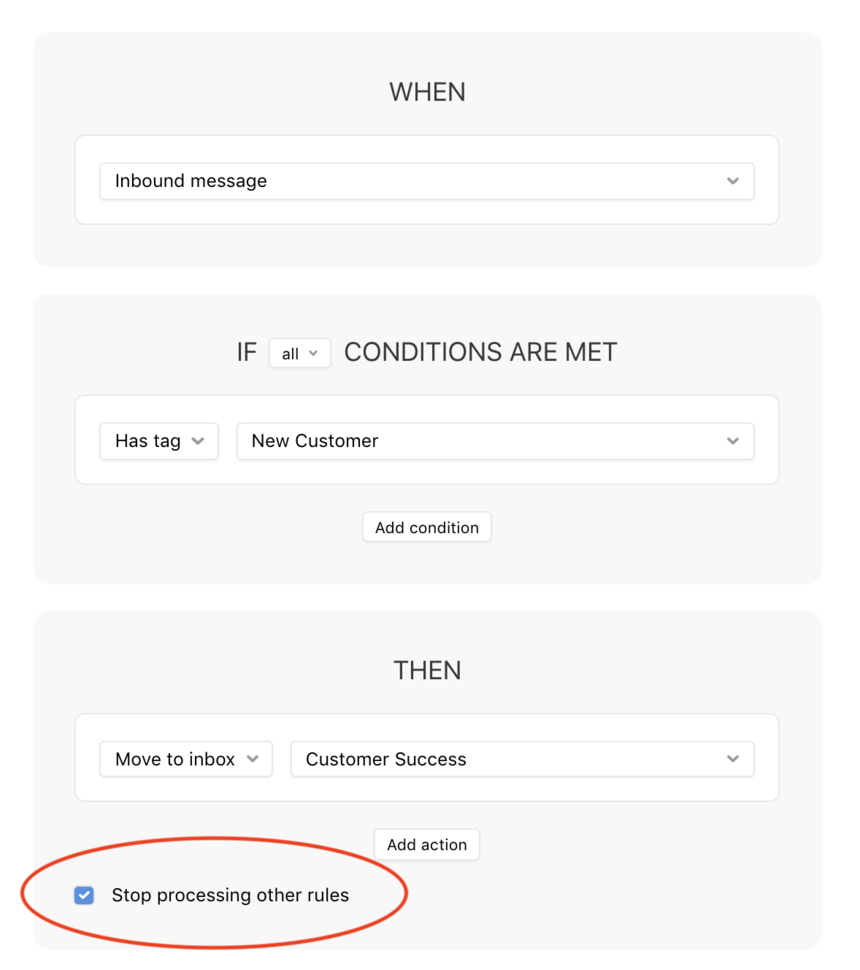 The only exception is if there are any time-based rules that would apply to the conversation after the original rule is run. If a conversation meets the conditions of the time-based rule, the rule will be applied.
We're in the process of transitioning customers from our original rules engine to our new rules engine, which allows for rules to trigger other rules.
For customers who signed up for Front on or after September 24th, 2018 or had less than 2 rules on that date, the following applies.
If you signed up prior to that date or had more than 2 rules on that date, stay tuned for instructions from us about the transition. Until then, you have the original rules engine and the following does not apply.
The order in which your rules appears in your rules list determines the order the rule is processed. The rule engine will sequentially process your rules, which means it will complete the actions of a triggered rule before moving on to the next triggered rule and applying those actions. This means the actions of one rule can affect whether a subsequent rule is processed. For example:
Rule #1
WHEN: Inbound Message
IF: From company.com
THEN: Add Company tag

Rule# 2
When: Inbound Message
IF: Doesn't Have Company tag
THEN: Assign to Andersen
Because Rule #1 is processed first, a Company tag is added. When we process Rule #2, because Company tag was added from the first rule, this rule won't run.
In cases where you have two of the same type of action applying to the same conversation, the latest action will overwrite the first one. For instance, if your first rule moves a conversation to Inbox A but a second rule moves the conversation to Inbox B, the second move action overwrote the first move action.
Use the arrows to the left of each rule (upon hovering) to adjust rules up or down the list.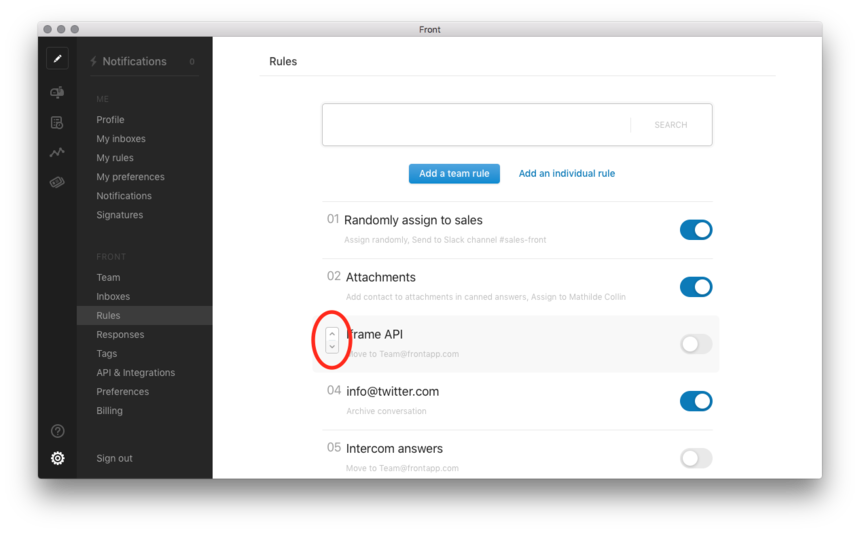 With Front's rule engine, an action of a rule can be used to trigger a subsequent rule. An action is the conditions that you list in your THEN part of a rule. For example:
Rule #1
WHEN: Inbound Message
IF: From company.com
THEN: Add Company tag

Rule# 2
When: Conversation tag
IF: Add Tag is Company
THEN: Assign to Andersen
Because Rule #1 is processed first, the Company tag was added first. With rules being able to trigger other rules, the action of adding a tag will allow us to trigger the second rule. Rule # 2 is processed because the Company tag is present, and so the conversation is assigned to Andersen.
I have a rule that assigns a message to a teammate based on contents of the message, and another rule that notifies all team members if this message is not assigned.

However, it seems everyone on the team is still getting the notification even if the message is assigned to the teammate, using the first rule.

I have the rules ordered so that the "assign to teammate" rule is processed first. Considering the message is then "assigned" shouldn't that prevent the second rule "notify all teammates" from processing?

Thanks for the help.

Micah Kohne Hi, and sorry for the delayed reply. Can you please send an email with the names of these rules so that we can investigate?