Understanding analytics
Like integrations, you need to be an admin in order to access analytics.
---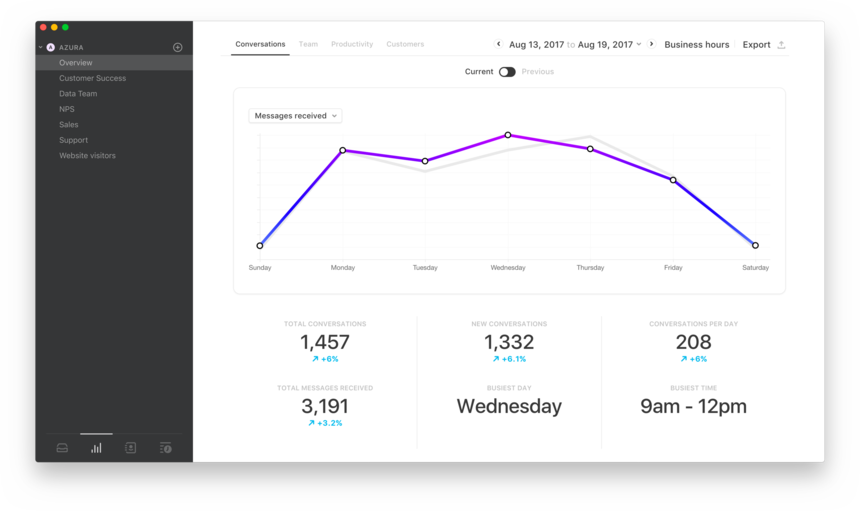 Analytics allows you to get information about the performance of your team. By default, you will get information about all of your team inboxes. However, you can easily create new reports to filter for specific inboxes, channels, teammates, or tags, or any combination of these!
When you create a new report, you can filter the results to make the report more specific. The "Overview" report is always available and will display the analytics of all your team inboxes (individual inboxes will never appear in this report), but you can restrict analytics using specific filters. You can also include individual inboxes in custom reports.
Here are a few ways each filter type can help make your custom reports more meaningful:
Inboxes: If you have different response time or volume goals for inboxes for various teams — like support, sales, or operations — you can create reports using each team's inboxes to track those goals separately.
Teammates: Managers can track performance of their team members in a particular inbox, or across all the inboxes they work in. This helps managers remove noise caused by other people participating in the inbox.
Channels: If you have channels of the same type (like email or Chat) in multiple inboxes, you can now group them together in one report, while still keeping them separate for your workflow. You can also track performance for different channel types in one inbox separately.
Tag combinations: Previously, if you selected multiple tags we'd return conversations with any one of those tags. Now, you can filter for conversations that only have all of a set of tags, like client name X AND status - urgent to see urgent conversations for a particular client.
Front's analytics are divided into four sections:
Conversations: volume of activity (messages sent and received).
Team: performance of individual teammates.
Productivity: global company-side metrics.
Customers: lists your most active customers.
Each of these tabs will display data based on the filters you set when you create the report. So if you filter for a certain teammate, only data related to that teammate's Front activity will be displayed.
Note: Results are always displayed in your current time zone. Deleted conversations are excluded from the analytics. Spam does not affect your metrics. The analytics dashboard is only available starting from the premium plan.
By default, Front will show analytics about the previous week. You can see more options by clicking on the time range.
If you click on the previous/next arrows, you can quickly jump to the previous day/week/month/year. When possible, Front will compare the current value with the same value in the previous range. For example, if you select "This week" and see.
It means that you received 8.5% more conversations this week compared to the previous week. If you click on the Current/Previous toggle, you can quickly see the previous values.
Front lets you define business hours: the time when your team is expected to reply to customers. Reaction time, response time and resolution time that happen outside of your business hours are counted as 0. To define business hours for your team, just click on the button.
The business hours are always defined according to your current time zone.
Note: Business hours do not work retroactively: if you change them, it will only affect future conversations.
Front makes a difference between the performance of individual teammates vs the perceived response time from your customers' point of view. Reaction time is internal to your team, meaning it's how long a conversation is under your responsibility. Response time is external, meaning the time it took for the message to get a reply. Let's take an example:
John (customer) sends a message to your team@ inbox.
After 12h, Greg (manager) manually assigns it to Anna.
Anna quickly responds in 30 mins.
From John's point of view, it took the team 12h30 to respond. However, it would be unfair to count it towards Anna. So Front has 2 separate metrics:
The reaction time is always tied to a teammate. It is the time taken to respond or reassign (12h for Greg, 30 mins for Anna).
The response time is not tied to a teammate and is a global metric for the company.
The Team panel gives access to individual reaction times, while Productivity and Customers show response times.
If you archive a message with no response, the conversation will still be counted in the total. If there is no response at all then there is no reaction time, but still 1 message count in the total. If you reassign a conversation, then you will get a reaction time. If you archive it, no reaction time is computed.
Snoozing a message will not affect response time or reaction time.
In order to be resolved, a conversation must have at least 1 response (a message from a customer followed by a response from your team) and be archived. We will then compute a resolution time for the conversation, which is the sum of the response times. Archiving a message with a prior response is considered a resolution. Archiving a message without a prior response is not considered a resolution, but a reaction. Deleting a message will not count as a resolution. Here are a few examples:
Sam (customer) sends a message to your sales@ inbox to ask about your pricing.
Jerry (account exec) responds after 2h and asks for more details.
Sam replies again the next day after 24h.
Jerry replies again with a final quote 3h later.
Sam replies just to thank Jerry 1h later.
Jerry archives the conversation.
In this case, the conversation will have a resolution time of 5h (we only count your team's response time). The actual time when Jerry archives the conversation is irrelevant: Front will look for the latest reply and set the resolution there.
Note: If Sam replies again afterward, the conversation will be unresolved and the resolution time will be canceled.
Front tracks new conversations, which is a useful way of measuring the volume of new requests you get. However, some channels (like chat or SMS) do not have a real notion of conversations: customers will always be replying in the same conversation, even if they want to talk about something new.
Front solves this by detecting inactive conversations. If an existing conversation receives a new message after becoming inactive, it will be considered as a new conversation in the analytics.
By default, conversations become inactive after 5 days with no activity. You can change this value in the advanced settings of your inbox.
The conversation panel gives you information about the volume of messages you receive, so you can know when your team needs to be the most active.
Total conversations: number of active conversations (received or sent at least one message).
New conversations: number of conversations that received their first message (or resumed after being inactive).
Busiest day: which day (according to your timezone) saw the most messages received/sent.
Busiest time: 3h time window during the day which sees the most activity.
This panel will list metrics about each individual teammates:
Conversations: Number of conversations with which a user interacted with (assigned, archived, commented, replied, etc).
Messages per conversation: average number of messages in the conversations where the teammates replied to (note: all messages not necessarily sent by the teammate).
Average reaction time: time to respond or reassign on average (see discussion above).
First reaction time: time to respond or reassign on initial message (assigned, archived, commented).
Total messages: number of messages sent or received on conversations the user interacted with (assigned, archived, commented, or replied) .
Total sent: number of messages the users sends (composed and replied to).
Replies sent: total number of messages sent in reply to a request.
Messages composed: messages sent without replying (started a conversation).
This panel lists metrics about the efficiency of your team from your customer's point of view. These metrics are not tied to a specific teammate.
Response time: average time between a customer request and the following outbound message.
First response time: Even if you can't solve a customer's problem immediately, it is important to quickly let them know you are working on their issue. Front measures the time it takes to give this first response to your customers.
Resolution time: sum of the response times before a conversation is archived (see discussion above).
The Customers panel lists your most active customers. It also tracks the volume of customers you have been able to help (that you replied to) over time.
Although we try to make the metrics we present in the dashboard as straightforward as possible, they still depend on details that are easy to miss. Here are a few things you should be aware of if you try to understand exactly how we come up with a certain number.
Note: for most use-cases, you can ignore these remarks.
There are many things that can cause the analytics results to change, even in the past. For example, if a customer replies to a conversation that was marked as resolved, it will unresolve it. You could also manually move a conversation to a different inbox.
For performance reasons, all analytics results are kept in cache for 1 hour: if you request the same metrics, you will get the same results. If you load analytics at 12:34, the same analytics will be valid until 1:34. After that, we will recompute them, and they will stay in cache for another hour.
The analytics look at exactly which teammate is replying in a conversation, regardless of the "official" assignee of the conversation. If a conversation is assigned to Mary, but Sophia responds because she is unavailable, Sophia will get a reaction and a response time.
When a customer replies in an inactive conversation, we effectively treat it as a new conversation: a new segment. This is what you expect if, for example, you are talking to the same customers over SMS. Because of this, the same conversation can be counted several times as a new conversation.
You can adjust or disable the inactivity duration in your inbox settings.
If you modify a conversation, it will affect the analytics as expected: deleted conversations will be ignored; if you move or tag a conversation, it will affect views filtering on these inboxes. However, there are 2 exceptions:
As stated earlier, it may take up to 1h for the results to be updated.
If the conversation has become inactive, only the latest segment will be updated.
For example:
Paul (customer) chats with you to report a problem. You tag the conversation as #support.

A month later, Paul chats with you again: he is so in love with your product that he would now like to apply for a job. You tag with #job.
In this case, analytics from the previous month will not be modified.
Time range
Let's say you reply on Tuesday to a customer email received the previous Friday. If you later check the analytics for the week, we will correctly report the response time, even though the original message is outside of your requested time range.
Auto-replies are ignored by the analytics: they do not count as a reply and do not generate a response time.
When sending a sequence out of Front using a team email address, analytics will count each individual outbound message towards the team inbox's New Conversations metric, which also rolls up into the Total Conversations metric in the conversations view.
Hi Tin Maung Htwe,

Analytics can get confusing, so I'll try to simplify this as much as I can for you.

Emails received - from the Conversations tab, choose "today" from the time range dropdown, and look at total messages received.

Replied - from the Productivity tab, choose "today" from the time range dropdown, and look at replies sent.

Hope that helps!

Couple questions here:

1. We want to know the volume of stuff in the tub at any given time (or at least 1x/day). In other words, how many unassigned or open conversations do we have right now? This tells will help with real-time capacity planning. Can I get this metric or do you have another way to look at this?

2. I'd like a daily email with some metrics so I can parse this information and share it with my team in slack and make some metrics available on our company-wide analytics dashboard. Can I schedule emails with analytics?

(side note, I tried to login with my front-registered email and I wasn't able to login)

Hi Taylor,

Happy to help!

1. The number next to All (# inboxes) in your standard email view underneath Team Inboxes should tell you how many unassigned conversations you have at that time.

2. Currently we don't have a feature that lets you schedule daily metric emails.

This Help Center has a separate log in, so your Front-registered email won't work without registering it.

Boudewijn van der Laan Sorry for the confusion! Conversations include the full thread, so think of each conversation as having multiple messages. Messages are single messages.

Conversations - the number of conversations with which a user interacted (assigned, archived, commented, etc)

Total messages - the number of messages (sent or received) with which a user interacted (assigned, archived, commented, etc)

Boudewijn van der Laan Each data point is separate, and every number is specific to the teammate. Let's say a teammate only interacts with 4 messages in a conversation, but a conversation has 7 messages in it. That's a situation where the calculation you've suggested doesn't work. To answer your question simply, Front does count these individually.

Cori Morris I am looking to see the number of conversations moved from one inbox to another AND the user who has moved it.

In our company, we are currently manually tracking (tallying up) the number of conversations archived, assigned, and moved. I was able to find a way to track the number of conversations archived and assigned using the analytics, but did not find a way to track conversations moved in the analytics. That's what led me here.

Thank you again for getting back to me on this quickly, Cori!

Cori Morris

Thanks, yes that does make sense. To have a better view on contact ratio we probably should take the month totals, or at least the week totals. I noticed that a week in Front starts on Sunday, instead of Monday. I know I can customize the range in Front analytics, but is it also possible to change it by default? Thanks again for your help!